This article is a review of the Ford Focus 2.0 GDi Sport, based on extensive testing by several members of our team.
The Engine
Probably the main reason for buying this Ford Focus, the engine does not disappoint. Originally made by Mazda, and sold by Ford as a Duratec HE Ti-VCT, it's a 1998cc (2.0L) 4 cylinder unit, with all the modern perks one could ask for. It has a dual independent variable camshaft timing system (Ti-VCT), which helps the engine to perform well in low revs up to the red line (REALLY well), and works well in reducing pollution.
Of course, it has 16v… but the most amazing thing, to us, is the Direct Fuel Injection system. What this kind of injection does is inject fuel directly into the cylinders, in the exact quantity needed for that particular condition of power or economic demand. Because of this high-precision fuel injection system, we can have a high-compression piston fitted (12:1 ratio), allowing the air-fuel mix to be burned the best possible way – efficiency, this is the key. At the same time, it generates 170hp @ 6,600rpm – in a naturally aspirated engine – when driving the Ford Focuscarefully, fuel consumption is at its best, really low for a 1,400kg car. The maximum torque is 202Nm @ 4,450rpm, but you never feel a lack of power, even at very low revs.
From low to high revs, the engine feels ABSOLUTELY smooth, no vibrations, no noises, nothing wrong. There is no point that it feels stronger and more "alive" than others, power comes smooth from low revs until the red line. This has good and bad sides to it. The good side is that there are no surprises, you know exactly what to expect at all times, there's no situation you will be driving in low revs and feel you have no power for overtaking another vehicle, it's all under absolute control. The bad side is… there are no surprises. There are no strong emotions. You go from 0 to 210km/h and your 4 passengers feel NOTHING, they can be sleeping, or about to… predictable, but boring.
There's the whole technical explanation about Direct Injection, variable camshafts, etc… but we'll stick to the "feeling" here. Maybe in a next post.
The Gearbox
The second most important feature of this model, for us, is the 6-Speed PowerShift gearbox, a dual-dry-clutch unit, with both Drive and Sport modes, and a "Manual" mode (when set to S).
We never liked regular automatic gearboxes… with very few exceptions, they slip too much in acceleration, take a long time to change gears when pushed hard, are useless when going downhill and, with no exception, make your average fuel consumption pretty high, compared to the equivalent manual gearbox.
This PowerShift Ford fitted in the newest Ford Focus and Fiesta has everything to be amazing, and at most times, it is – when you press your right foot to the ground, it will shift down, engine revs up, then shift up on the red line probably faster than the average good driver would be able to do – but not quite so… or not yet.
When using D, the regular daily driver mode, it works… ok. Just ok. The creeping is ok, even though we think it should push the car a tad faster… but fine for city usage. The main problem is that, in the current software version, the down-shift when you press the accelerator is a bit slow… as if the car is "thinking and deciding" if what you really want is to go faster. This does not happen when you stick your foot to the ground, mainly on intermediary-low positions of the pedal. And we hate it. You learn how to live with this behavior but still hate it.
This characteristic is greatly reduced when using S (Sport) mode, as the gearbox tends to leave "one gear down" most of the time, and it's extremely rare that it will engage 6th gear. On S, you also have more engine-braking power, and it's absolutely mandatory to leave the stick in S when you want to accelerate during curves – one of the absolutely WORST feelings is when you're in a curve, you feel you need to send more power to the front wheels so they pull the car in the correct direction… and the gearbox slowly decides if you really need to be in a hurry. We engage in S mode more often while driving in the city, as it makes for a much better overall experience. One characteristic we enjoy the most is the "extra engine braking" when using the car brakes – the system detects you want to brake, and shifts down, very similar to what we would do ourselves in a manual gearbox.
The "Manual S Mode" is utterly useless. You can move gears up or down with a tiny button on the side of the gear lever, as if you were playing a game – and worse, using a stick-controller. we don't know what Ford was thinking when they decided to include this function in this position – or if they were thinking at all. It could have just been featured as the wheel-paddles, instead of the "second audio controls" on the steering wheel – it would make some sense, and it would keep prices about the same… just a bunch of buttons, in a different position.
There is a new version of the gearbox software, which apparently fixes this delay and odd behavior. we have already contacted Ford Thailand on Twitter, let's see if they can make this update for us without too much trouble – we haven't received any reply though, and the BangNa-Trad km 13,5 dealership said they know nothing about it. This update is also said to correct the "wrong gear selected" situation, when you are slow or stopped, then you start to accelerate and for whatever reason, take your foot out of the accelerator. The dual-clutch system, in this situation, is absolutely sure you will keep accelerating and it selects one gear up, but when you remove your foot from the accelerator, "something goes terribly wrong" and the whole system disengages, clutches, gears, the whole lot… the best way to describe what we feel is when you're driving an older car, accelerating, then you pass by some bump or pothole, and the current gear slips out of position. Only the ones who have been through that know what we mean… and the ones who didn't can be sure it's not the most pleasant feeling.
As of February 2013, however, this software update is UNAVAILABLE in Thailand, and neither Ford, nor any of the contacted dealers, have any idea when or if this will be brought to Thailand.
Handling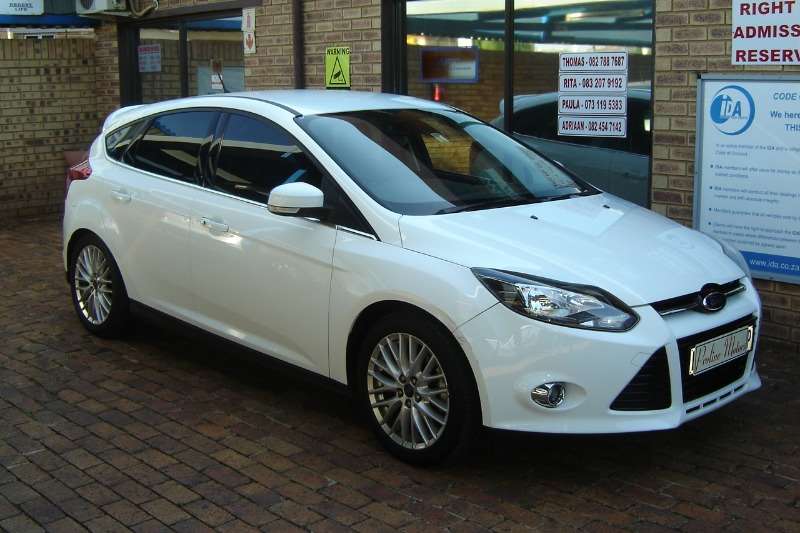 This is where the Ford Focus has a name and a position to hold. Since the first edition, known as Ford Focus Mk1 (Mark 1), released in 1998, it has amazed the housewives for its smooth and comfortable ride, no matter where you are, up to the driving enthusiast, with its excellent cornering ability and superb overall dynamic behavior. We haven't been lucky enough to drive the two older models, other than a quick ride around the block in a 2000 model, 1.6 engine. And we couldn't tell much from this anyway… but we always read and heard how amazing the car was. If there is one thing that people can't really deny is how superior the Ford Focus is, compared to the Opel/Vauxhall/Chevrolet Astra, and the Volkswagen Golf, the two models that share market positioning with the Focus.
This version didn't let us down. OK, our last two cars were not what we can call… normal. we have a Suzuki SJ413 (Samurai) 1990, fitted with a 2.0 16v Toyota Engine, SFwe Fuel injection, automatic gearbox; and a Toyota Hilux SportRider 2001, fitted with the 3.0 D4D Turbo Engine, 163hp, a world of torque and manual 5-speed gearbox. But we had alright cars before (mostly Astras, generation F and G), and we had contact with many others, from Honda Fit/Jazz to Mercedes Benz ML500. That said, the Focus is the best handling car we have ever driven… by far. Not even the 1,400kg – heavier than a 1980's full sized European saloon – make it misbehave in corners, and we're yet to find somewhere where we can't "push a little harder". The steering wheel feels absolutely connected to the front wheels, and its electric power assistance is almost completely off at higher speeds, allowing us to have a better control of the movement we're going to make.
The Ford Focus Mk3, at least in this version, known as "Sport+" (the top hatch version available in the Thawe market, equivalent to the Titanium+ for the Sedan) is fitted with a sort of Traction Control, called AdvanceTrac® Dynamic Stability Control (DSC) – not the type that actuates on the differential, or the gearbox, but in the front brakes – whenever the computer detects one of the front wheels turning more than the other, it brakes that one slightly, so the power goes to the other wheel – the one with better traction at the moment. It works well, but if wanted, can be disabled on the on-board computer menu. Only bad point of doing so is an annoying yellow light in the middle of the dashboard.
The other computer system that assists handling is called Torque Vectoring Control. What it does is quite interesting… The TVC works only while cornering, a situation where the outside wheels receive most of the weight of the car, which means they have more grip than the wheels inside the corner. This system calculates the G-force, feels the terrain, and based on that, breaks the inside wheel so most of the power is transferred to its pair, which has more grip. The result is faster cornering with a higher level of control. Or so Ford says. If it works? we don't know, it's not like we can FEEL this working (which is great), all we can say is that the end result is AMAZING cornering, be that when you keep your speed stable, when you push the car faster or while braking (in emergencies). There is not a single moment the car gives us the feeling it's doing something it's not supposed to.
Of course, all this is helped by great Michelin Primacy LC tires measuring 215/50, on 17″ wheels.
City Driving
However we hate it, city driving is what we do most. And it was the very basic reason we decided to buy a brand new, relatively small, automatic car. After starting our search for a new automatic vehicle, targeting mainly the "low cost top range SUVs", such as Toyota Fortuner (or SW4 in some markets), Mitsubishi Pajero Sport (not really a Pajero PAJERO, more related to the L200 Triton, like the Fortuner to the Hilux), we started looking with better eyes at the small city hatchbacks, which we've always been a fan of… our main target was the Ford Fiesta, a car we like since its release, back in 2009 when we were living in the UK. The problem was… they didn't have the Fiesta for Test Drive at the dealership we went to, and we made the "mistake" of driving the Focus – the very same version we ended up buying. The engine response, braking, and quick direction changes put a spell on us, and we couldn't really see anything else – at that moment, the Focus was perfect.
This hasn't changed much in the past three months and 12,000km driven, mostly in Bangkok traffic jams, with an eventual trip nearby. We found problems in the Ford Focus, most of which we described above – "lazy" gearbox and boring engine – and none of them diminish the qualities of the car as a city car.
There are a few key aspects that are really important when you think of urban transport, and we'll try to cover all of them below, commenting on how the Ford Focus handles them:
Size: you don't want a big car (or shouldn't need, unless you're a bad driver and want people to stay away, afraid of your size), it's harder to park, to find parking spaces, to turn in tight corners and reverse easily. The Focus is BIGGER than necessary (4.36m), at least for someone with no large family (me 2 people and 3 cats). we would be ok with something the size of the Fiesta hatchback, easily. This is not a problem, but… unnecessary.
Versatility: the trunk has a good size, you can lay down the seats and have a large cargo space in case needed. No bad points here, it does the job well, perhaps better than the Sedan version.
Visibility: very few blind spots, we can see almost everything around us, aided by the side and internal mirrors. The side mirrors are the convex kind, which expand the field of vision in their external edges, and this is something basic for us, so basic we replaced by Suzukwe SJ413 original mirrors by the new ones, so we can drive safer and see who's around more than a "small square" behind us.
Fuel economy: it is fair. Not great, but adequate and better than expected. We'll cover this more in a later subject. Same as in "Size", we would have done better with a Fiesta/Swift/Jazz(Fit), but it's alright so far.
Ride comfort: Good. Seats are fully adjustable, even lumbar support can be changed, and the steering wheel moves up, down, back and forth, freely. Not complicated to find a good position. Most of the dashboard buttons are easily accessible, sometimes even duplicated for driver/passenger, which is too much… but ok. The Air Conditioning system has all the perks of a "Climate Control", with individual settings for Driver and Passenger. The sound system has USB/AUX input, as well as Bluetooth, all quite easy to operate, sync, change. This all together amounts to a simple "nice time" while driving, even at the most stressful situations, the "stop-and-go" in traffic. Suspension is stiffer than normal in the Sport+ version with the 17″ wheels and slim tires, but this does not compromise the ride comfort.
The result is a nice car to be in, any time, under any weather, through any sort of traffic jam or total standstill. We have never felt tired or had pains in our legs, arms or back, even after a full day, 6h+ sitting in the driver's position, running errands around the city.
Highway Driving
One would think that, with all the qualities we said before, including handling, engine, gearbox, and all about City Driving, the Ford Focus would be more than perfect for highway driving… it isn't. Nothing wrong with the car, really, maybe the problem is us – when driving, it's all so smooth, all so silent, no surprises, no bumps, no need to focus on something specific, that, we get boring and sometimes, sleepy. We haven't had the opportunity to go into a REAL nice road though, such as the ones deep in Kanchanaburi, or up in Task or Chiang Mai/Mae Hong Son, or even up in Laos, where we experienced some of the nicest "driver's roads" ever. This is something to be done in the future. Other than this minor "problem" we have, highway driving is perfect, and the 6th gear makes it quite economical also, leaving the engine at a reasonable 3000 rpm @ 120 km/h (GPS speed).
Performance
There is very few official performance information for the Asian Ford Focus… It does use the same engine as its North American Ford Focus, and we will get that as a base for comparison. The main difference is the peak power, which Ford USA gives as 160hp @ 6,500 rpm and Ford Asia gives at 170hp @ 6,600rpm. Not sure why the difference, but that has been confirmed to be over Twitter by the official @FordThailand, so we will go with it.
Ford USA says it does 0-60mph in 8s on the manual version of the Ford Focus, and 8,2s on the 6 speed PowerShift gearbox. We have never tested it, in the chronometer/GPS, but these numbers sound pretty much correct – for a family hatchback, it's impressive, and in the few opportunities we had, we can say it accelerated faster than the new Corolla 2.0 and the new Civic 2.0 but again… you never know who is driving the other car, and we don't do anything stupid, which would put people at risk.
The 6 Speed PowerShift gearbox in the Ford Focus does an excellent job when you press your right foot way down, using either S or D modes. Gear changes, after the initial delay (less than one second maybe… just feels odd), are as fast as a manual, maybe faster – we don't think we could do better (we have never tried though, our knowledge is from the "trucks" we own and the Astra and Corsa we had, all of which had bad gearboxes concerning fast changes). The S mode holds the engine in higher revs, making it faster to regain speed after slowing down, but this is in no way excessive, it feels just right for the "moment". The D mode is so nice, though, that the only time we feel the need to use S mode is when cornering at higher speeds. Accelerating fast in both of them is pretty much the same, gear changes being fast, and engine going up to almost 7000 rpm every time.
As said, and we emphasize: the MANUAL S MODE is *totally* useless. It doesn't matter when you press the button to change up/down, the gearbox will decide when the right moment comes, and it always comes with at least 1-2s delay, really irritating. Don't bother.
Fuel Economy
Here we are honestly impressed, if not amazed. First, a few facts:
it's an automatic car, with an outdated gearbox software
the car weights 1,400kg
traffic in Bangkok and Thailand in general is one of the worst in the world, with bottlenecks after bottlenecks
we have a heavy foot
we don't drive thinking of saving fuel, as this gets us stressed
We are using mostly "Gasohol E20", which contains 20% Etanol, so we can relate with the people we know from Brazil (there, we only have "Gasohol", varying between E20 and E25, plus "E100" or pure Ethanol).
Air Conditioning is ALWAYS on
In these harsh conditions, we have never had a tank giving us less than 7.5km/L average, and we have kept track since we took the car from the dealer, back on October 26, with only 43km. All the fuel-ups can be seen clicking on this button:
Fuel
As you can see, the total average fuel economy is around 9km/L. That is about the same we used to have with our old Chevrolet Corsa 1.4 EFI, with poor 59hp and 11kgfm torque, in a 900kg car, fitted with a manual gearbox!
Compared with our previous and current vehicles, the Ford Focus is, with exception of the Diesel Hilux, the most economical one on average, and yet, it's the heaviest, more powerful and the only one using an automatic gearbox.
For us, this has a name: technology. The dual-dry-clutch gearbox, the Direct Injection engine, all the computer systems, they work hard so we can spend less. For a geek like us, this is absolutely amazing, the power of technology.
Technology
And this brings us to our next subject… Technology in this version of the Ford Focus
Why didn't we buy a Honda Civic, or a Toyota Corolla, or a Mazda 3, or many other cars from brands much more renewed in Thailand/Asia? Basically, they do not pack as much technology in a single space, for a decent amount of money. Here's a list of features included in this version of the Ford Focus, with comments:
Active City Stop when under 30km/h, if the front facing camera detects you're getting too close to the car in front, it will activate the brakes. It does work, which is great, but sometimes we think it's too sensitive
Auto Parking: we have never used it, as parallel parking is rare in Thailand… but we can see it being used by many low skilled drivers.
ABS with EBD the basic, anti lock brakes with electronic brake distribution. The car always feels in control, even when cornering and braking strongly.
Electronic Stability Program, Traction Control (AdvanceTrac® Dynamic Stability Control (DSC)) and Torque Vectoring Control these 3 items work together, with a computer controlling stability through the brakes. Cornering is made easy with the Focus, requiring little ability and mostly no fear and confidence
Sony Audio with SYNC by Microsoft, and 9 speakers with Bluetooth / AUX P2 / USB – good sound quality, easy to use, you can connect your phone and dial through the car, by button controls or Voice Activated system
Sunroof – useless in a sunny country like Thailand, just adds weight…
Xenon HID directional headlamps with LED lamps
LED tail lamps
Fog "following" front lights – they turn on and off was necessary when you turn the wheels, quite useful in dark streets/intersections
Fog rear lights
Remote keyless entry and engine start – no need to use the key to unlock the car – it senses when the key holder grabs the handle and unlocks the doors – and no need to use the key when turning on the car – the system knows when the key is INSIDE the vehicle, unlocking the steering wheel and activating the Power button, to start the engine
Heated acoustic windshield – special windshield that dampens the sounds, reducing the noise inside the car between 3 and 6dB, with heating to "de-fog" in cold weather, much like the back window in most cars. This windshield has 3 layers of material, being the center one a kind of vinyl, to dissipate sounds and vibrations, coming from in or outside of the car.
Cruise control – the usual, with buttons to change the speed up and down
Speed limiter – together with the Cruise Control, you can set a limit and it won't go past it. Good to avoid tickets in some places.
Rain sensing wipers – just leave them in Auto, and they turn on whenever detecting drops of rain – works 99% ok, rarely firing the wipers when not needed. You can also adjust if you like them to wipe the windshield more or less frequently. Also, when the windshield wipers are active (rain) and you engage reverse, the real wiper is automatically turned on
Auto On-Off Headlamps – just leave them in Auto, they will turn on and off as needed. Works perfectly.
Front, side and curtain airbags, 6 or 7 in total – we hope they work, but we don't want to know.
Hill Hold and Hill Launch Assist – avoids the car backing off when in a hill, by keeping the brakes pressed for a few seconds, until the engine has enough power to move the car
Front and rear parking sensors – no cameras, just the good ol' sensors, showing the green/yellow/red area in the main screen
Active front grill shutters – open and close the front grill according to engine cooling needs, always seeking the best aerodynamics (with the grill fully closed)
Driver and passenger safety belt reminder alarm
Front seatbelt pretensioner and load limiter
S.O.S Post Crash Alert System – in the event of a crash, when either the AirBags or the safety belt pretensioners are activated, the car will sound the horn and activate the emergency flashers, until turned off, to alert nearby people of the location of the car
Sport tuned suspension – only on the Sport+ version, with harder shocks, slightly lower than stock
Power exterior mirrors with "auto folding" when the car is locked, and down-pointed lights to show the floor when parking in the dark
Rear Focus ST Spoiler
Side skirts
Dual zone (driver/passenger) Air Conditioning with Climate Control
Electrochromic Rear View Mirror – darkens when night, and more when it detects cars behind you with strong headlamps
Ambient lighting – soft red lights on at all times during the night, inside the car. They can be disabled on the On Board Computer
Eco-mode, Trip Computer, Variable Dimming & Outside Temperature – all accessible from buttons in the steering wheel. The Eco-Mode says how "Eco" you've been driving, based on your acceleration and braking patterns, and on the average speed. The trip computer does the usual "mileage, autonomy, L/100km or MPG, average speed". Values can be reset one by one or all together.
And we're NOT Ford salesmen… with all this, it's hard to consider others… it's just… so much. And all so cool! And most of it is so useful… one thing we miss though, is the "Blind Spot Detector", which is available on the Sedan Titanium+, but not on any of the hatchbacks. Pity.
Ride Comfort
A lot has been said already, but we'll complement a few points which we consider more important, as follows:
Front Seats
The front seats are comfortable, with a good side grip, and long enough "bottom rest". The driver's seat has height and lumbar adjustments. The sedan version has electric controls to move the seats front/back and up/down, but the hatchback has manual controls. They are ok, easy to use, but our height adjustment lever broke after only a month, and 6-7 weeks later, we are STILL waiting for a replacement. We don't use this much, but it's not nice to have a brand new car with parts falling off, and even worse to wait months for a cheap piece of plastic. Blame on Ford.
Another difference between the Sedan and Hatch versions, is the absence of the full-leather seats on the later. The Hatchback seats have leather sides and another kind of fabric in the middle, supposedly to give better grip, as this model is focused more on performance. In this case, we believe them, or at least accept as a valid excuse, the seats do provide better grip than the Sedan version, helped by the larger "flaps" on the side of the back-rest.
The front seats can be moved very further back – so much that, in the most rear position, there is barely space for the back passengers.
Silence
Almost absolute silence is experienced when inside the car. Almost annoyingly silent. While writing this review, we discovered Ford used a "sound dampening windshield", which might explain how silent it is. we love silence, but we're also 30 years old, and we would like to listen to the engine working when we push it hard, and not even that we can enjoy… we are considering ordering a special exhaust system from the US, at least to give the car some "presence" – all road legal, we don't enjoy headaches and we're a fan of extra-high quality music.
Sound system
Sony-based, integrated with Microsoft SYNC, the system is really simple to operate, as easy as a Windows computer. Maybe this is based on WindowsCE, we don't know, but it's all simple and direct, no need to read the 500 page manual 10 times to change songs or connect and sync your mobile phone. The USB port works as a charger port, providing apparently 1A, stronger than the computer's USB ports, but not enough to keep our Samsung Galaxy Tab 2 7″ charged while in use. When plugging a USB stick with music, the system recognises and scans the drive automatically, and there are few and useful options, such as Shuffle, or "Play Songs Like The Current", which makes a playlist of songs similar to the one playing at the moment (same artist, similar titles, or genres, etc). There is also a P2 AUX connector, which also works as it should. When using the Bluetooth to play audio, the controls in the main radio console and in the steering wheel can be used to change songs (tested in two Android tablets using PowerAmp, but it seems to work with iPods/iPhones/iPads as well). Unfortunately Ford didn't fit the full SYNC system, as it depends on mobile operators, reliable maps, etc, and this is not that common in Asia.
SYNC
This system is developed by Microsoft, together with a bunch of partners, and on this version, only provides easy mobile connectivity, downloads address book to the car system, voice dial, easy menu navigation, etc. The full SYNC, available in the US, provides a huge range of services, including maintenance alerts, uploading your car's logs to the internet and getting a report of how the systems are, oil change alerts, and much more. we're still looking into that, if there is something we can use in Thailand, or some way to connect our car to the internet via Mobile phone… but not sure. We will update you when we have more info.
Air Conditioning
We covered most of this item already, it has a full Climate Control which works very efficiently, and even on the hottest days, the internal temperature can be at a pleasant 24ºC in a matter of 1 or 2 minutes. In comparison, our Hilux SportRider takes 5-10min to cool down inside, with both rear and front AC units working, and re-circulation turned on. It's quite comforting to start the car and know that, in minutes, it's all back to "life bearing environment".
Back Seats
Comfortable enough, they provide a firm back-rest, and a center arm-rest with 2 cup holders. The ride in the back is not bumpy, even with the sport's suspension that is fitted in the Sport+ model. The only problem is the leg room, and it can be pretty tight with people taller than 1.75-1.80m seating in front, with decent space for their legs. With taller people in front, only people with no legs can sit in the back, depending how much you fold down the front seats.
Ergonomics
All buttons are within easy reach for the driver, and most of them, to the front passenger as well. The Radio On/Off, which is the most distant button, on the top left corner of the center of the dashboard, is easily accessible by us, without stretching ourselves in any way. All the center buttons and dials are also well-positioned, and we would just prefer the A/C dials to have some sort of texture, instead of plain slippery metal circles. Sometimes we don't feel if we're actually turning them or not.
One thing we DON'T like the main radio controller buttons, in the center of the dashboard, together with the volume dial, are repeated in the left side of the steering wheel. This can be confusing, as the RIGHT side of the steering wheel provides buttons in the exact form and shape, but those are used to control the On Board Computer in front of you. Also, the proximity of these 2 sets of buttons to the edges of the central part of the steering wheel make it hard to press the horn in emergency situations, when you would just use your thumb, and instead you have to take one hand out of the position it is in, and press the center of the circle, quite strong, to "be heard".
Structure
Ford says all the body is reinforced with "ultra high strength boron steel", and this kind of metal is four times stronger than regular steel, and also lighter. That sounds like "wow", but most modern cars are going this way, the Focus being no exception – one more reason we wanted a newly developed vehicle instead of an older and cheaper version. What does all this mean? Let's go to EuroNCAP, the entity which tests cars for the European market.
The Focus achieved a 5-star security rating, which is pretty much standard nowadays in cars of the same category and generation, the specific grades as follows:
Adult Occupant: 92% Safety Rating
Child Occupant: 82% Safety Rating
Pedestrians: 72% Safety Rating
Safety Assistance: 71% Safety Rating
Those are very good levels of safety, by any means of comparison. And what all that structure strength means, whenever you are NOT crashing around, is a very stiff body, which will give a great handling experience, without the monocoque "twisting and turning" on its own, creating more difficulties for the driver to make the car behave as desired.
Price
Cars in Thailand are not cheap. The Focus is not cheap, nor is it expensive. The price range follows, as most other vehicles here, whatever is set by Toyota. This unit, which is the top of the range for the Hatch, costs 1,079,000 Baht, or about US$ 35,650 / 27,700 Euros / 22,200 GBP (rate of 11/01/2013). The exact same model, in the Philippines, goes for 1,199,000 Pesos, or US$ 29,500.
This is unfortunate, but unless you want to buy a supermini Eco car (Nissan March, Mitsubishi Mirage, Honda Brio, and a few others under 300,000-400,000 Baht), or a pickup, taxes are high, and will push the prices up. Finances however are quite simple, and you get as low as 2,5% per year interest rate, and between 10-25% down payment, with 2-7 years to pay it in full. Combine that with the low maintenance costs (tax, insurance, etc), it's not that bad of a deal.
Cost of Ownership
Ford Thailand provides a pretty reasonable table of cost of most services and Labor. One example:
Oil + Filter + Labor = 1,800 Baht (+- 60 USD)
Also, Ford has a "public commitment" to provide all major maintenance parts in 24h, whatever you are in the country, or you don't pay for it. We don't know if this works, or if they will not give excuses, but coming from Brazil, a country where Ford is known to take DAYS or even WEEKS to deliver parts, it sounds like a good thing.
Design
This is very personal… and on a personal level, we never liked the "Ford Kinetic" design, from the first Focus/Ka. We didn't like their second generation Ford Focus either, although we considered it less ugly than the first. But we here put our heads down for the latest Focus design, which captured our attention from the first time we saw it. The Sedan or Hatchback have a good presence, even looking smaller than they actually are. The real lights from the Ford Focus Hatch are absolutely amazing, and the side lines in general… The car looks like it wants to eat the road. That, together with the blue color that is only available for the Sedan, added to the "spell" that was cast over us when we finally tested the unit last October. we had to have one, and we got one, and we still think it's absolutely beautiful, the shape, the color, the big wheels with a nice design (they could be dark though).
On the other hand, we absolutely HATED the silver Focuses we saw so far… they look so… cheap. It's like a Chinese car, nothing special about it, just those gigantic rear lights in that pointless body with a sad, sad color… we never liked it and we still wonder why people buy silver cars, which they have to use for years, just for a few more bucks when selling it out (we know silver is easier to make it look good, specially when the ink gets old and with some scratches). We just don't think it's worth the sadness of looking at it every day, for years and years…
Dealership
We had our test drive and bought our unit in the Ford/Mazda dealership in Srinagarindra Road, near Seacon Square/Paradise Park. The salesman didn't speak English, so everything had to go through our "translator" girlfriend. Luckly, after years with us, and endless visits to garages to fix our other cars, she does understand what we want, and what we mean, even in the most technical terms. This made it easy, together with the salesman being really well informed about the specs of the car. The whole documentation for the purchase/financing was done in little more than 10 days, with zero hassles what-so-ever. We are still waiting for the definitive license plate, but this is not a dealer issue… the government is apparently still having issues manufacturing the plates, due to a low-quality problem a couple of years ago, aligned with a very high demand for new cars. It has been 10 weeks since we got the car, and we're hoping to have the license plate issued by the end of January.
The only problems we had so far: the day we got the Ford Focus, it was displaying 9km in the "Autonomy meter" – almost zero fuel in the tank. It was so low that, while exiting the dealer, the fuel ran out and we were locking the main road for about 10min, until the security guard brought 3L of gasoline so we could at least move to the nearest gas station. This should NEVER happen, and it's a huge stain on Customer Care for us, and for anyone who saw us with the brand new, "broken" car in front of the dealership.
Second problem: the handle to put the driver's seat up and down broke after about a month, and we requested for a new one in the last week of November, 2012. It's been 6 weeks now, and they don't seem to receive a simple 50 baht plastic piece – we wonder what will happen when we need something actually important to make the car work.
Ford Thailand
We found a way to communicate directly with Ford Thailand, which has been good so far, to solve a few questions we had. They have a very active Twitter account (@FordThailand), and by asking questions through there, we usually get a quick response, in good English. They confirmed the power of the Asian version of this engine is really 170hp@6,600rpm, and told us we could change the oil on our own if we didn't feel comfortable with the set interval of 15,000km – with no difference depending on the kind of use you give the car.
We were a bit concerned, given that every other car we had featured different ranges of how many kilometers you drive before changing oil, depending on driving and road conditions, and even the Ford Focus USA features these instructions:
Ford Focus USA Oil Changing Guide
With their official approval, we changed oil on our own, with little less than 10.000km, and every 10,000km after that, to keep the heart of our car – and possibly the most expensive part of it – working smoothly for a long time.
They have also promised us an English copy of the instructions manual – which took little over a month to be available, but it was delivered as promised to the dealer we bought the car with – and we are hoping to get the engine ECU and gearbox ECU updated to the latest software version with no hassles… let's see how it goes.
FORD® in Thailand
FORD is a weak brand in Thailand, perhaps one of the weakest western brands. we don't know one single dedicated Ford dealer, all of them seem to be attached to their Japanese counterpart, Mazda. That considered, it's not more than their obligation to provide excellent services, support and a car filled with equipment, in order to attract buyers… in any other case, we will just buy Toyota, Isuzu, Honda… or even Mazda, which doesn't help in brand consolidation.
So far it seems they are doing "their best", but their best might not be good enough. Problems such as no fuel while leaving the dealer for the first time, or massive delays in getting a single plastic lever stain the brand for us, and we have known the Ford brand since we were very young. Imagine that happening to someone who just decided to "venture in a brand to see how good it is"? NOT GOOD, Ford… FIX it.
As of February 10, 2013, about 10 weeks have passed since we requested a single simple plastic lever, which HAVE NOT been delivered. The dealership blames Ford for taking so long to import that 50g piece of plastic from Singapore, and Ford Thailand apologizes for the delay, but the situation hasn't changed. we could have driven to Singapore and back in 3-4 days, there's absolutely no excuse for the now 10 weeks period to fix something that shouldn't be broken in the first place.
FORD… for us
Our image of Ford comes from Ford Brasil. Once a good brand, in the 80's, when we had our first interest in cars, they allowed themselves to be obscured by Volkswagen, from 88 onward, until the late '90s, when "AutoLatina" was dissolved. In that period, Ford was basically manufacturing old versions of the European Escort, and cheap copies of the cheap Brazilian VW cars, with terrible customer support and zero innovation – and that was a time of deep market changes, when Brazil opened itself up to the world, following a lengthy Military Government. Ford stood behind and lost prestige… When they finally left AutoLatina, the brand and name Ford were part of the past. All their great achievements, great cars, the Ford pickups, the Maverick, the Landau/Galaxy, it was all legacy, and they had to start fresh.
From 1997, Ford started bringing current European cars to Brazil: the Fiesta, the last Escort and then the world-car Focus, the Mondeo… problem is, in Brazil, as in Thailand, cars are supposed to last "forever" – they cost a lot of money and no car is ever scrapped, you can see 20-40 year-old cars still in circulation, specially but not only in small cities. And Ford TOTALLY neglected this peculiarity of the local market, selling good cars, yes, but providing zero post-sales assistance. Dealerships didn't know how to deal with the top-end models, there was (and still is) a lack of supply for parts, sometimes taking 2-3 weeks to get a simple but vital screw to make the car available for use again.
Ford never recovered from this "dark age" period. People still admire the former cars, and speak highly of Ford as a whole, but when it comes to buying a new car – they usually go somewhere else, with cheaper or more reliable brands, very few brave spirits venturing in a Ford "just because of all the new technology".
We made a bet in Ford Thailand, and we hope we won't regret doing so. It's up to them to make this "partnership" work, from now on, and we'll do our best for it to work, as we're assumed to be a "paranoid petrol head", wanting our vehicles to be always in tip-top condition, however dirty they might look from outside.
Frequently Asked Questions:
What is the Ford Focus 2.0 GDi Sport, and how does it differ from other Ford Focus models?
The Ford Focus 2.0 GDi Sport is a specific trim level of the Ford Focus with a 2.0-liter Gasoline Direct Injection engine. It may have unique features and options.
Is this review specific to a particular year of the Ford Focus, or does it cover multiple years?
The review appears to cover a specific Ford Focus model, but it's important to clarify the model year as features and specifications can vary from year to year.
What are the key highlights of the Ford Focus 2.0 GDi Sport mentioned in the review?
The review should highlight the car's key features, performance, fuel efficiency, technology, and any specific characteristics that make it stand out.
Conclusion and Final Thoughts
Over three months have passed since we got the car. This review explains most of what we feel about it, but it leaves a few questions for answering:
Would we buy another Ford Focus? – yes, definitely, but not as first choice. The car is far superior to the similarly priced Toyota Corolla, and looks better than the current Honda Civic, but shares with them both the lack of "spirit" – what we wanted when buying an European developed car.
Would we buy another Ford? – Yes, but not in Thailand. The brand is still "green" here, and making no real effort to improve its image.
Would we recommend someone to choose Ford or the Focus? – unfortunately, no. Not in Thailand anyhow. Perhaps not even in Europe, and by all we read, definitely not in Brazil. We made a bet that we feel we're losing, and only time will tell. Make up your own mind about the Ford Focus, but those are our two cents.
This is a very lengthy review of the Ford Focus, and we'll try to illustrate a few more points in the coming days, but we would love feedback on the points anyone feels we're missing something.